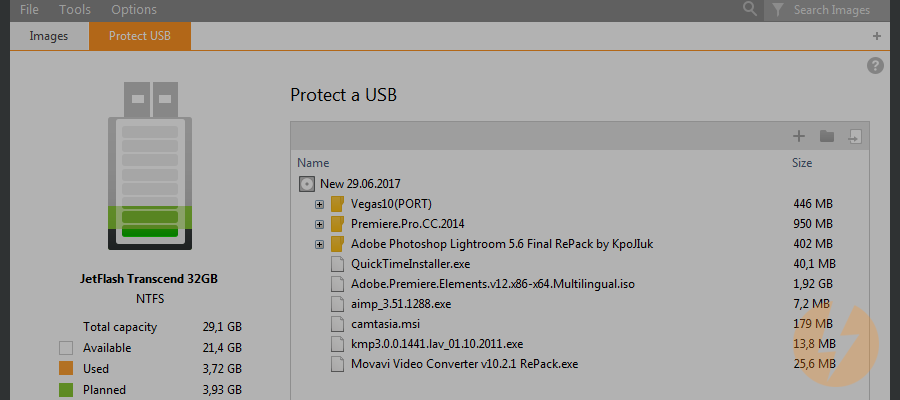 I got used to working from different places: office, home, occasional business trips, etc. Now I'm writing this post sitting in the hotel in Johannesburg, South Africa. I need lots of work files to be always at hand, so USB drive is my best helper.
Modern USB sticks store even more data than yesterday's external hard disks. I can take the USB drive anywhere to use it with a desktop computer, a laptop or, sometimes, a tablet. However, there are not only pros when using USB devices. They are quite small, and I can remember losing minimum three ones during past years. Though, I still need to secure USB drive to feel calm about my files even if something goes wrong.
Using encrypted USB sticks may help to protect any personal information (passwords, payments, digital copies of identification cards, certificates, etc.). It's easy to keep secrets with a password protected USB, as long as we all have skeletons in the closet... So I consider USB encryption as the best solution to store my personal documents securely.
Password protected USB drives become more and more popular. You can find the hardware-encrypted USB sticks in the shops, but they cost a lot and so are not widespread. USB encryption software allows securing any drive you have. When I was preparing for my last trip, I also chose this way to encrypt USB flash drive. Now I want to describe all the steps of this process to you.
How to encrypt a USB drive on Windows?
To secure USB stick, we need special USB encryption software. I use DAEMON Tools Ultra - a comprehensive tool for mounting and creating various types of images. This software has many additional features. One of them is the ability to encrypt USB drive or usual optical disc.
I use DT Ultra often, and so it is already installed on my PC. If you are not familiar with this program, first of all you have to download and setup it. Note that you need the latest version of the software – DAEMON Tools Ultra 2.3.
Now I would like to describe what I do to create an encrypted USB stick.
I launch DAEMON Tools Ultra and choose Write Protected Data to Disc/USB… option from the Tools menu.
Then I select the drive I want to encrypt and click Next button.

On the next stage, I add several files and click Next button again.

And on the last step of creating the encrypted USB drive, I set a password and click Start Burn button.
Now I can go to make a cup of coffee, because DAEMON Tools Ultra needs several minutes to burn all my files and encrypt USB stick. After a while, I get this informational window: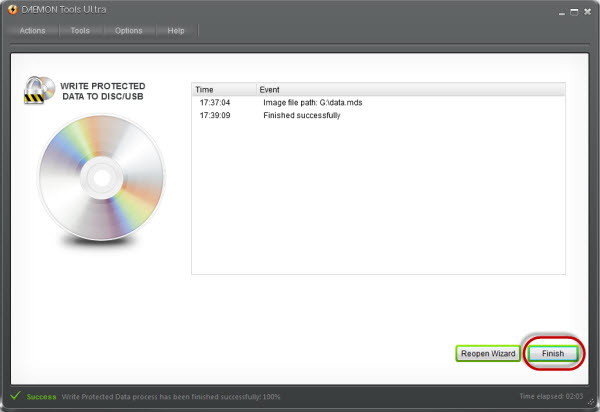 Well, I have created the secure USB drive, but how does it work? Let's check.
To open an encrypted USB flash drive, I need the Extractor or any DAEMON Tools product that is able to mount images (almost any one of them, actually). All my files are stored in a virtual image now. DAEMON Tools software mounts the data from the encrypted USB stick, and the last one appears like a virtual disc. Extractor just copies the files to the hard disk.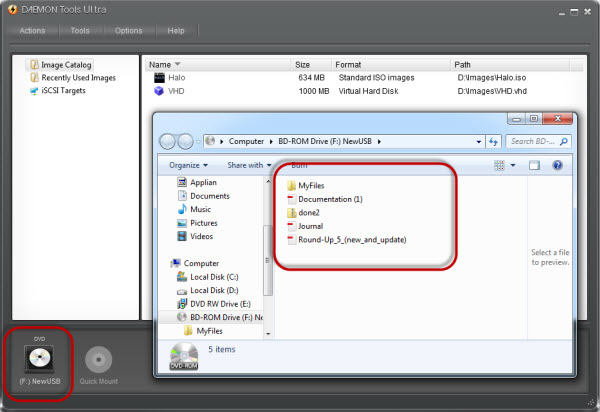 Now I'm sure about the security of my data and hope that you have understood how to encrypt a USB drive, using DAEMON Tools Ultra. If you still have some questions, feel free to ask me in the comments below.