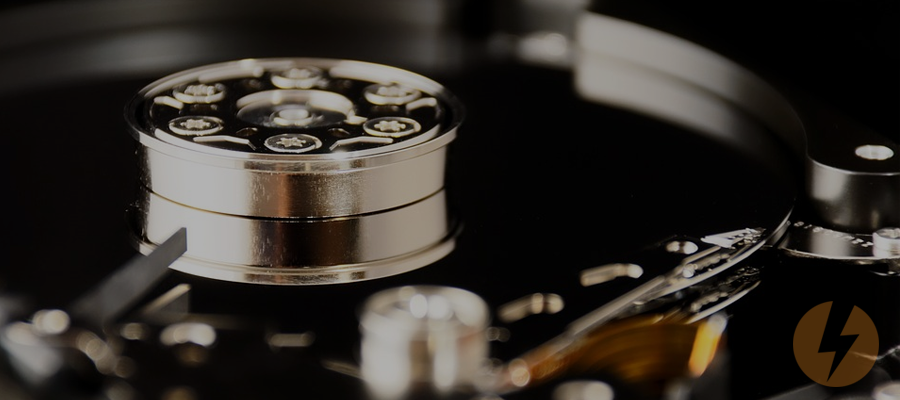 Since the introduction of Windows 7, virtual hard disk drives become more and more popular. Today I would like to tell you more about this useful tool and describe how to work with VHD, using DAEMON Tools Ultra. Let's learn all you wanted to know about virtual HDD. What a virtual hard disk is, how to create VHD, where to use it and what advantages you can get, creating and mounting VHD with DAEMON Tools Ultra.
What is a virtual hard disk?
VHD (virtual hard disk) is an imitation of a physical hard disk drive. It is located on the real HDD physically, however, has its own logical partition and file system. That's why virtual HDD operates just like a physical one and can contain files, folders, applications or operating system. Originally, virtual hard disk was used only with virtual machines, but today there are many more cases, when it may work for you. Let's discuss the most common of them.
Why you may need to create VHD
As I've already mentioned above, virtual hard disk can be used by virtual machine. It's pretty easy to understand: we have an imaginary computer and need a virtual HDD for it. It may contain an operating system or just necessary data, which you use working with virtual machine.
Also, you can create VHD and use it for your backups. Well, external HDD is a very popular backup device. Virtual HDD works just like it, so what's wrong with using it for backups too? Using VHD, you can create an unlimited number of backups and then just copy them on the external devices. This way is the most convenient for creating multiple backups just in several clicks.
The other common way to use VHD is creating additional operating systems that host on a single machine. In simple words, you can create VHD, install OS and use it instead of a virtual machine (in Windows 8 and 8.1). In this case, you don't need expensive and comprehensive software but can evaluate all the advantages of virtual machines. I'd like to highlight the most important of them. Virtual hard disk with operating system installed allows you to work with several clones of your PC safely. You can test something, experiment with features of the operating system, learn its abilities without a risk of system failure. Also, you can host several different versions of the operating system on one PC.
Virtual HDD is a flexible and useful tool, so there are lots of additional features and ways to use it thanks to DAEMON Tools. For example, with DAEMON Tools iSCSI Target, you can not only create VHD but also share it. Just imagine: you have a virtual hard disk with lots of data or even an installed OS and you can use it remotely anywhere. Also, I have already described how VHD helps create a persistent RAM and can be encoded with the latest version of DAEMON Tools Ultra.
How to create VHD in DAEMON Tools Ultra
Hope, you see now, how VHD may be useful for you. Now I'd like to describe how to create VHD with DAEMON Tools Ultra. As always, you need to download and install the program to start using it. I advise you to begin with the trial version and then go for more.
To create VHD, I launch DAEMON Tools Ultra and choose the relevant option from Tools menu. I get the following window: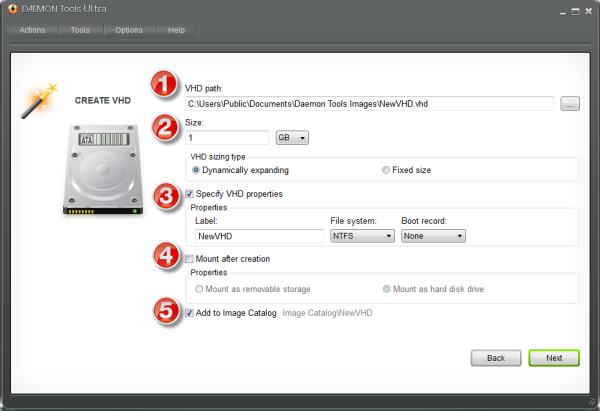 Let's adjust the options. First of all, I choose name and path to the VHD file. Note that it should be stored on the rather big disk.
On the next step, I reserve a space for my virtual hard disk. I want to create a storage for an average size of data, so I need just 1GB. Those who are going to use it for operating system or huge amount of backups need a bigger size. Then I choose Fixed size type, because it will work faster. However, Dynamically expanding size is better for small HDD, as this type of VHD occupies the real hard disk drive space little by little.
Now I need to select the file system — let it be NTFS, — type the label of the volume and choose whether the disk contains MBR. Master boot record is necessary for disks with operating system, but it is not my case.
On this step, I choose how I will mount the created VHD further. The disk may appear as a removable storage (just like USB stick) or as an HDD.
And finally, I add my VHD to Image Catalog to keep it at hand and click Next button.
That's all. In a couple of moments, my virtual HDD will be ready for use. I have already copied several folders to it and want to show you my VHD. I have also checked Automount option in Preferences, and now my VHD will be ready to use even after the system reboot.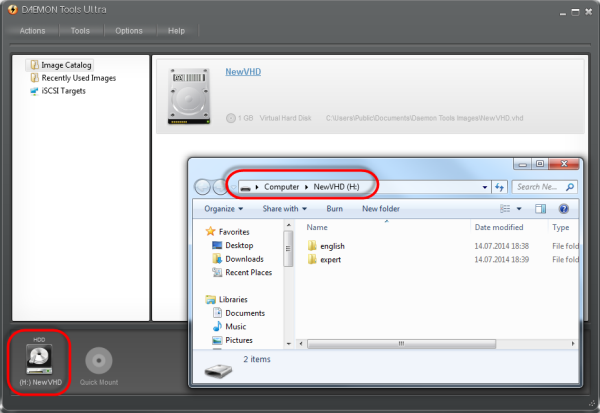 As you see, the question about how to create VHD is solved thanks to DAEMON Tools Ultra. Those who want to use the created virtual hard disk for new operating system need to insert the bootable disc, restart the computer and choose this VHD as a destination for the system.
And I want to answer another question regarding virtual HDD, which you may also want to ask. Why do we need DAEMON Tools Ultra, if there is a special tool that can create VHD embedded into Windows 7 and 8?
Well, those who know how to create VHD using Windows already have an answer. To create VHD with the Microsoft's tool, you need lots of time. This utility consists of numerous dialogues, that makes process a bit complicated. However, virtual hard disk is something that everyone can make and use. At DAEMON Tools, we want to help you feel comfortable creating VHDs and working with them.
Do you use virtual HDD at home or at work? Write me in the comments.